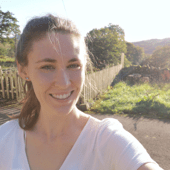 Kate Dow
Head of Media
Kate is Head of Media at Ziggurat XYZ. Kate's team manage and deliver hundreds of unique social media assets across TikTok, Facebook, Snapchat, Instagram and YouTube every month for the company's roster of YouTube creators.
The media department creatively and editorially produce video, image and text content for various platforms; supporting each creator with an individually tailored service to best fit their needs. No two creators, accounts, or social media platforms are the same, so why should the service be?
Kate has previously worked on British film and television productions as a Third and Second Assistant Director, has produced a micro-budget feature film and still keeps an eye out for interesting and challenging shows to get involved with. At home she is lovingly terrorised by two cats, their personalities like chalk and cheese. Kate also eats a lot of cheese.